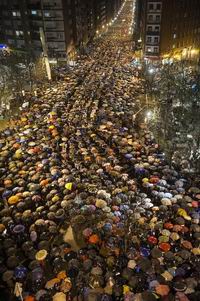 Other Voices: The Connexions Newsletter - December 18, 2014
The Commons
Diemer, Ulli (editor); Khan, Tahmid (production)

https://www.connexions.org/Media/CXNL-2014-12-18.htm

Publisher: Connexions
Date Written: 18/12/2014
Year Published: 2014
Resource Type: Serial Publication (Periodical)

From its beginnings, one of capitalism's prime imperatives has been an all-out and never-ceasing assault on the Commons in all its manifestations. Common land, common water, public ownership -- anything rooted in the ancient human traditions of sharing and cooperation is anathema to an economic system that seeks to turn everything that exists into private property that can be exploited for profit. This issue of the Connexions Newsletter focuses on the Commons.


Topics
AlterLinks
c/o Sources



© 2019. The information provided is copyright and may not be reproduced in any form or by any means (whether electronic, mechanical or photographic), or stored in an electronic retrieval system, without written permission of the publisher. The content may not be resold, republished, or redistributed. Indexing and search applications by Ulli Diemer and Chris DeFreitas.