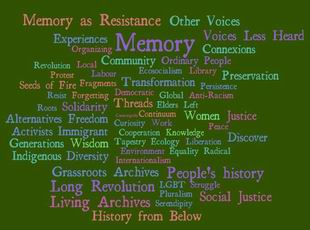 The Case for Grassroots Archives
Diemer, Ulli

https://www.connexions.org/CxLibrary/Docs/CaseforGrassrootsArchives.htm

Publisher: Connexions Information Sharing Services
Date Written: 02/05/2013
Year Published: 2012
Resource Type: Article

Grassroots archives play a valuable role in what has been called "the battle of memory". People's history projects such as grassroots archives preserve and share stories of resistance, hidden histories, and alternative visions.


Topics
AlterLinks
c/o Sources



© 2019. The information provided is copyright and may not be reproduced in any form or by any means (whether electronic, mechanical or photographic), or stored in an electronic retrieval system, without written permission of the publisher. The content may not be resold, republished, or redistributed. Indexing and search applications by Ulli Diemer and Chris DeFreitas.