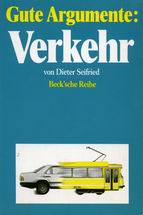 Gute Argumente: Verkehr
Seifried, Dieter

Publisher: Beck'sche Reihe, Munchen, Germany
Year Published: 1990
Pages: 172pp ISBN: 3406340032
Book Type: Handbooks/Manuals

Resource Type: Book

Informiert anschaulich and sachlich über die Grundlagen des Verkehrssystems, über the Hintergründe der auto-orientierten Gesleeschaft und uber unweltschonende und wirtschaflich vorteilhafte Alternativen.


Topics
AlterLinks
c/o Sources



© 2019. The information provided is copyright and may not be reproduced in any form or by any means (whether electronic, mechanical or photographic), or stored in an electronic retrieval system, without written permission of the publisher. The content may not be resold, republished, or redistributed. Indexing and search applications by Ulli Diemer and Chris DeFreitas.